Na esplanada ao fim da tarde #3
Técnica mista s/ tela |
Mixed media on canvas
89 x 116 cm
2018
Sold
PT
SOBRE RASTOS DUMA BEIRA QUE NUNCA CONHECI
reflete um ambiente nostálgico proveniente do sobrevoo de arquivos pessoais como o álbum de família. É no Interregnum entre o consciente e o inconsciente, e na inquietação que existe na procura de representar a ausência/presença que associa à memória, que representa momentos de lazer. Rememorando e criando novas imagens, a artista incita o passado como meio para perceber o aqui e agora, onde o desejo de fuga ao tempo que se esgota se transforma, através das camadas resultantes da sobreposição contínua do tempo, em imagens nítidas do presente.
ENG
SOBRE RASTOS DUMA BEIRA QUE NUNCA CONHECI reflects a nostalgic environment. Through materials like acrylic or oil pastels, the spaces in the outside are frequent, as the faces unrecognizable using this way of annulment as a form of temporal detachment.
It's in the Interregnum between the conscious and the unconscious and in the restlessness that exists the will to represent the absence / presence that she associates with the memory. It's also a work that stem from an ongoing engagement with leisure- time as the generative source to understand the identity construction experience through " home". Remembering and creating new images, the artist incites the past as a means to understand the here and now, where the desire to escape to the time that is exhausted becomes transformed, through the layers resulting from the continuous overlap of time, into clear images of the present.
Na esplanada ao fim da tarde #1
Técnica mista s/ tela |
Mixed media on canvas
120 x 100 cm
2018
Sold
Na piscina
Técnica mista s/ tela |
Mixed media on canvas
129 x 80
2018
Sold
À porta de casa #2
Técnica mista s/ tela |
Mixed media on canvas
46 x 61 cm
2018
Sold
Sala
Técnica mista s/ tela |
Mixed media on canvas
45x35cm
2017
À porta de casa #1
Técnica mista s/ tela |
Mixed media on canvas
46 x 61 cm
2018
Sold
Depois da praia #1
Técnica mista s/ tela |
Mixed media on canvas
70 x 50 cm
2018
Sold
Depois da praia #2
Técnica mista s/ tela |
Mixed media on canvas
50 x 70 cm
2018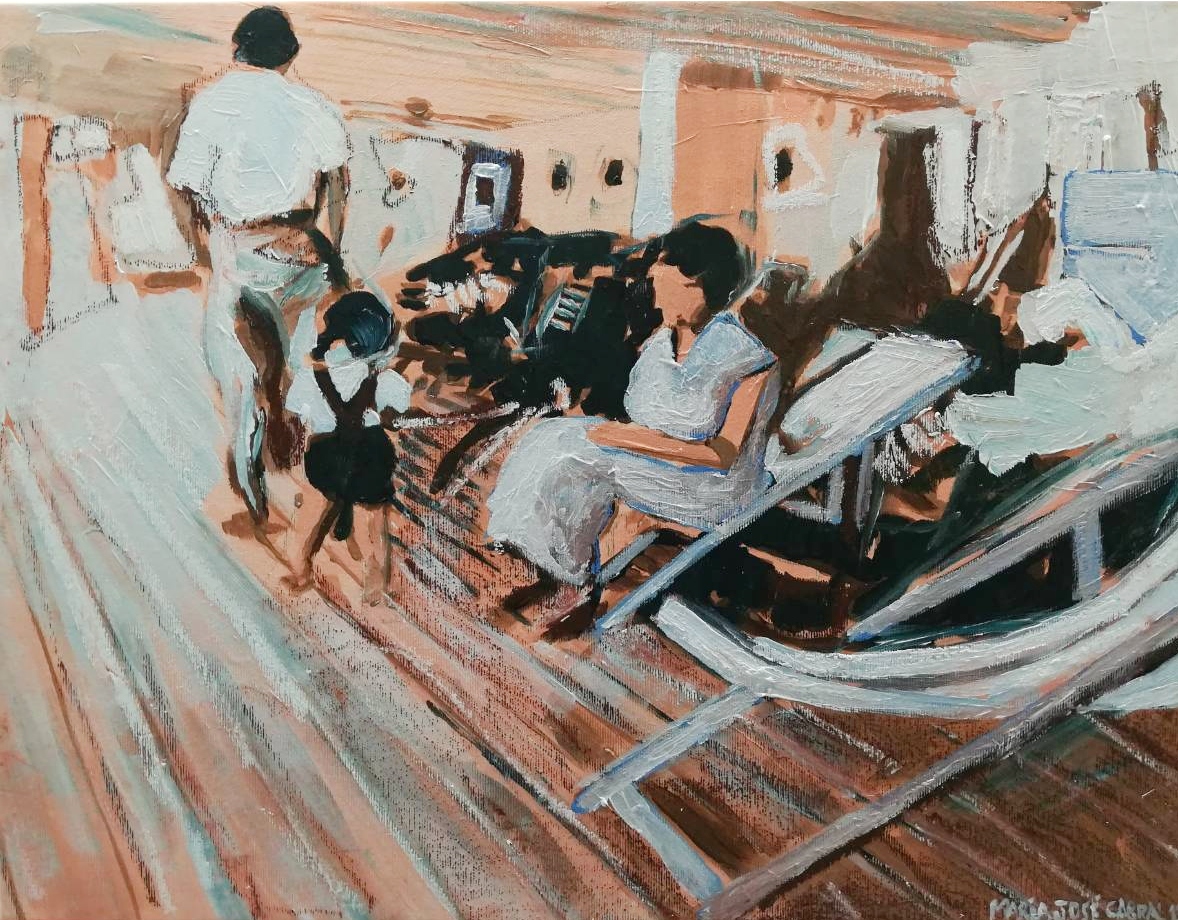 Viagem de barco
Técnica mista s/ tela |
Mixed media on canvas
60 x 40 cm
2018
Sold
Almoços prolongados
Técnica mista s/ tela |
Mixed media on canvas
89 x 116 cm
2018
Sold